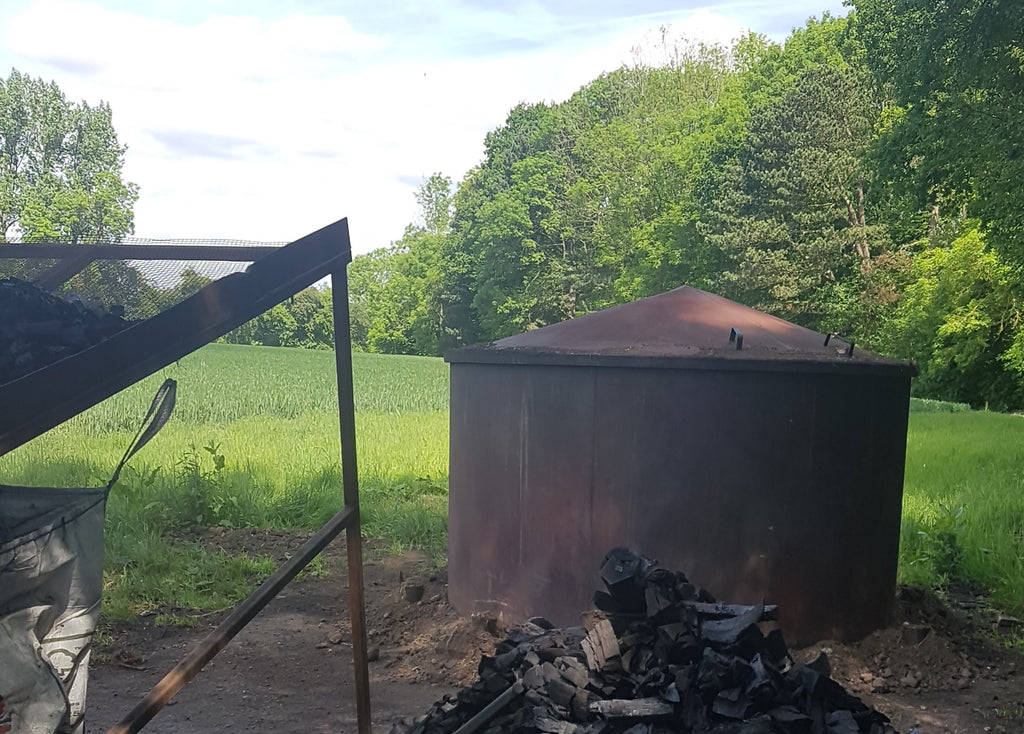 Nottinghamshire, Local Charcoal
Here at Home Farm Logs we believe Local is best. 
Which is why we decided to start producing our own, fully Local Charcoal.
From Spring 2017 Home Farm Logs will produce pure natural hardwood charcoal without any extra ingredients or additives.  The core benefit of charcoal products is that they light quickly and burn long and clean.


All our charcoal products will be produced on site at our Southwell premises using only hardwood sourced from sustainable woodland within a 35- mile radius. This means our charcoal products will hold both Grown in Britain and Woodsure accreditation's.

We produce the natural hardwood charcoal by cooking wood in our oxygen silo to burn off volatile compounds such as water, methane, hydrogen and tar. After the process is completed we are left with black lumps of charcoal. This charcoal holds more energy potential per ounce than seasoned hardwood and burns steadily, producing less smoke and high heat. With local same day delivery at only £5!

Key Characteristics
100% natural hardwood lumpwood

Leading natural hardwood brand
Lump charcoal lights faster, burns hotter and leaves
less ash than briquettes
Lights easily without using lighter fluid
Produces high heat 

Available in approx. 3kg bags

Henry Starkey, Managing Director, Home Farm Logs, said:

We at Home Farm Logs firmly believe that charcoal is both a strong environmental option and a high quality fuel. Our charcoal has a carbon content of no less than 80% unlike many inferior imported varieties from countries including Brazil and Ghana, that offer a carbon content of only 60%. The charcoal we produce is pure and natural and sourced from locally grown hardwoods in locally managed woodlands.
We then hand sort and select the bigger lumps to be packed into our locally designed bags, which can be found in local shops, and The Lincolnshire Co-op. Or of course, via our online shop here.
Lump is the most natural form of charcoal and it burns slower and hotter, produces a lot less ash, easier to control its temperature and burns with a woody flavour so automatically adding a smoking flavour to your food.

lumpwood charcoal - charcoal company - lumpwood charcoal suppliers - uk charcoal suppliers - local charcoal suppliers - british charcoal for sale
---